<![CDATA[

4:13pm: Taylor tells Jon Krawczynski of The Athletic (Twitter links) that The Raine Group approached him about a potential buyer, but it didn't work out because the group wanted to relocate the franchise.

"People have inquired who are interested but they want to move the team," Taylor said. "They are not a candidate. We've made that very clear."

Although that offer didn't gain traction, there are other potential options available that are being explored, Krawczynski notes.

According to Shams Charania of The Athletic (via Twitter), Kevin Garnett is part of one group of investors that has serious interest in buying the Timberwolves and is exploring a bid.
---
3:30pm: Timberwolves owner Glen Taylor has retained The Raine Group to explore a sale of the franchise, three people with direct knowledge of the situation tell Scott Soshnick of Sportico.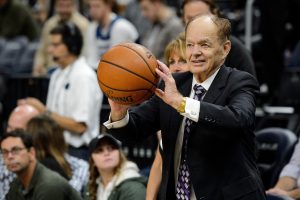 According to Soshnick, multiple parties have already bid on the team. One of Soshnick's sources suggests that a sale agreement could even be reached within the next month.

Taylor's decision is unrelated to the coronavirus pandemic, according to Soschnick, who adds that the Wolves' owner didn't want a public auction and instead asked Raine to directly seek out a buyer.

The Raine Group, a global merchant bank, has experience dealing in the sports world, having previously worked with FIFA to raise capital for the World Cup, Soshnick notes. The firm also assisted in the sale of a $500MM stake in Manchester City FC to private equity giant Silver Lake.

Taylor has owned the Timberwolves since 1994, having paid a reported $88MM for the franchise at the time. Earlier this year, Forbes estimated that the current value of the Wolves is $1.375 billion.

Although the Wolves experienced some success early in Taylor's tenure, making the postseason eight straight times when Kevin Garnett was on the roster, the club only advanced beyond the first round once, in 2004. Minnesota didn't make the playoffs for the next 13 years and has also missed out in each of the last two seasons following a 2018 postseason appearance.

The Wolves have struggled to build around their star players since 2004, trading away Garnett and eventually doing the same with Kevin Love. The team is now in the process of trying to find the right pieces to complement star big man Karl-Anthony Towns.

In addition to their lack of success on the court, the Wolves have had their ups and downs off the court. Most notably, Garnett – the longtime face of the franchise – has been on bad terms with Taylor for years, having suggested that, after Flip Saunders passed away, the Wolves owner reneged on an agreement to have KG join the front office. Garnett referred to Taylor as a "snake" as recently as this spring.

If Taylor, a Minnesota native and a former Minnesota State Senator, moves forward and attempts to finalize a sale, he seems likely to do so with a buyer that would be committed to keeping the team in Minnesota, as Darren Wolfson of 5 Eyewitness News tweets. The Wolves ranked last in the NBA in attendance during the 2019/20 season, so some potential suitors would likely be interested in exploring the possibility of relocation.

Photo courtesy of USA Today Sports Images.

]]>