NBA rosters will undergo some changes over the course of the 2017/18 season, particularly around the trade deadline, and those changes may have an impact on teams' cap sheets for future seasons. Based on the NBA's current rosters, however, we can identify which teams are most and least likely to have cap room in the summer of 2018, which will dictate the type of moves those clubs can make in the offseason.
We're taking a closer look at each of the NBA's 30 teams by division this week. Today, we're finishing up our series with the Southwest division. With the help of salary information compiled by Basketball Insiders, here's how the summer of 2018 is shaping up for the five Southwest teams:
Memphis Grizzlies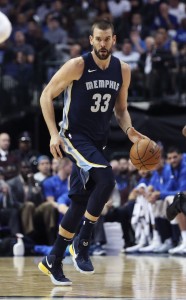 Guaranteed 2018/19 team salary: $101,105,736
Projection: Over the cap
Mike Conley, Chandler Parsons, and Marc Gasol will earn a combined $78MM+ in 2018/19, so unless the Grizzlies trade one of those players, the team is extremely unlikely to create any meaningful cap space. If Memphis struggles and misses the playoffs this season, I could see trade rumors surrounding Gasol begin to intensify, but for now, we're assuming the Grizzlies will begin the 2018 offseason over the projected $101MM salary cap.
New Orleans Pelicans
Guaranteed 2018/19 team salary: $91,577,138
Projection: Over the cap
With nearly $92MM committed to just seven players, the Pelicans would need to account for cap charges for five empty roster spots. Once those cap charges are added to team salary, New Orleans is left with about $5MM in potential cap room, which is less than the value of the mid-level exception. So even if the Pelicans don't end up keeping DeMarcus Cousins' cap hold on their books to try to re-sign him, they'll likely function as an over-the-cap club.
San Antonio Spurs
Guaranteed 2018/19 team salary: $78,410,994
Projection: Up to approximately $18MM in cap room
It wouldn't be a surprise if the Spurs ultimately don't have any cap room at their disposal for 2018. The team has three veterans holding player options, in Danny Green ($10MM), Rudy Gay ($8.8MM), and Joffrey Lauvergne ($1.7MM), as well as three potential restricted free agents (Kyle Anderson, Davis Bertans, and Bryn Forbes).
It's entirely possible that all three of those players with options turn them down, and it's also within reason that the Spurs will let their RFAs go. Still, I'd expect at least two or three of those six players to remain in San Antonio. And if guys like Green and Gay are among those returnees, either on their options or on new contracts, then the Spurs' cap space will evaporate in a hurry.
Houston Rockets
Guaranteed 2018/19 team salary: $78,123,448
Projection: Up to approximately $18MM in cap room
Like the Spurs, the Rockets could create a modest amount of cap room by parting ways with all their potential free agents, but the more likely scenario will see them stay over the cap. Chris Paul, Clint Capela, and Trevor Ariza will be among the most coveted free agents in the NBA, and re-signing even one of the three would likely take Houston over the cap, or close to it. Re-signing two, or all three, could push Houston into luxury-tax territory.
Dallas Mavericks
Guaranteed 2018/19 team salary: $41,269,318
Projection: Up to approximately $35MM in cap room
Based on their current team salary projections for 2018/19, the Mavericks could theoretically create up to $53MM in cap space. However, that's probably an unrealistic estimate, since it doesn't include Wesley Matthews' $18.6MM player option.
The 31-year-old guard has failed to make more than 40% of his field goal attempts in any of his three seasons with the Mavs, and his .359 FG% so far this season is his worst mark yet. He's also averaging just 11.2 PPG despite playing 34.6 minutes per contest. Simply put, Matthews isn't going to find an $18MM salary on the open market if he turns down his option.
As such, our projection for the Mavs assumes that Matthews will exercise that option, which still leaves Dallas with about $35MM in cap room. That would be more than enough to bring back Seth Curry and Dirk Nowitzki – if he doesn't retire – and still have space left over.
Previously:
Photo courtesy of USA Today Sports Images.